i love having my own little family to spend holidays with.
it struck me yesterday when we were walking to the fireworks:
this is it. we're a family. phil and i made a family.
i love it.
i love that we can make our own plans...
and we had a full day of plans yesterday.
morning:
we headed to my hometown to a little celebration
with those blow up jumpy toys and balloons and pony rides
and got to see my mom, my brother, and his girlfriend.
and ran into some friends with kids who jake loves.
family barbeque at phil's parents'
where we saw our cute godson... the bad boy with the sunglasses.
and jake got to play on the slip and slide with his cousins.
i love that he has so many cousins to play with.
fireworks back in my hometown.
it was nice to be by ourselves, just our little family.
it made me feel like a real grown-up for a second.
jake freaked for a minute and then totally warmed up to the fireworks.
oh and here's the onslaught of pictures, of course.
it wouldn't be a celebration without a few tears.
i wish this was in focus because it's a classic.
this is my embrace the camera picture. i am trying so hard to get more pictures with this kid.
sometimes i think he's going to think i didn't exist and i just sent a photographer out with him.
linked up here: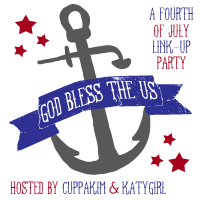 and with

emily

again